Proving proficiency at its best by serving customers Glass Tempering Furnace, Glass Toughening Plant, Glass Bending Furnace and much more, Luoyang Lever Industry Co., Ltd., is a company which is most worthy of trust of customers. Ever since our inception in the year 2010, we have remarkably grown in the markets by serving customers the best along with doing business with them in an ethical manner. We are based in Luoyang (Henan, India), from where we are welcoming customers from markets all across the globe. The factor which makes our company distinct from other is that we always ensure to our customers that the quality they avail from us will certainly outclass the offering of any other company of this industry. Architectures, automotive, furniture, household appliances, automobiles and solar energy industries are few areas, where we are catering our products.
Our Team

Be it the experts related in the engineering tasks of the employees who deliver our products, each individual whom we appoint in our facility, makes sure to brilliantly execute their works. We are a family of 150 employees, which includes skilled and semi-skilled personnel. Ever since the inception of our firm, we have emphasized on growing our teams, and have always added more personnel whenever we had the opportunity to. These individuals are not only recruited on the basis of their overall expertise in the respective work domain but also we judge their enthusiasm and morale. This is what certainly leads us towards getting a team of individuals who will to make us grow in this market with their brilliance and adroitness.

Key Facts of Luoyang Lever Industry Co., Ltd.


| | |
| --- | --- |
| Nature of Business | Manufacturer, Exporter and Supplier |
| Year of Establishment | 2010 |
| Company Branches | 01 |
| No. of Employees | 150 |
| No. of Engineers | 20 |
| No. of Designers | 20 |
| No. of Production Units | 01 |
| Monthly Production Capacity | 12 Sets |
| Production Type | Automatic |
| Warehousing Facility | Yes |
| Export Percentage | 80% |
| Sales Volume | USD100,000,000.00 per year |
| Export Markets | USA, Mexico, Brazil, Korea, Vietnam, Iraq, Iran, India, UAE, Poland, England and Africa |
| Importers/ Exporters Code | 410008555479X |
| Banker | Bank Of China |
| Service Tax Registration No. | 9141030308555479X8 |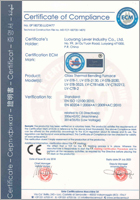 Get in touch with us